About

Me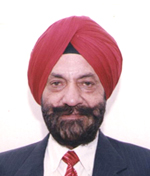 Sardar Tarlochan Singh is such a Venerable Man of Honour who`s hard to put in words. He always had a unique ability to withstand adversity and to move forward in the face of forlorn with great zeal and unmatched certitude. He is a Political Wing nut who firmly believed in Sikh Principle's and actively elevated them in whole world. He left no stone unturned in helping Sikh Causes and went to great lengths in establishing Sikhism and Punjabi Language in the esteemed Stratum`s of the Globe.

Sardar Tarlochan Singh Born to a middleclass family and starting from the bottom of Pyramid moved up to the highest possible realms of Democracy. He is one of the very few left first hand eye-witness of two major tragedies of the 19th Century. The partition of India in 1947 and the Massacre of 1984. While having struggling Formative Life where at times he had to work alongwith his studies. Sardar Saab attained his Master's degree in Economic's from Punjab University Chandigarh in 1955.

After completing his Master's degree in Economics. Sardar Tarlochan Singh started his Career in Civil Service as Public Relations Officer in Ferozpur Punjab in May of 1957. From 1958 to 1960 he served as a Public Relation Officer in Bhakhra Nangal Dam Project. He served through-out 1960's in Civil Service`s in Ambala and Patiala District. In 1970 he joined Markfed as a Joint Director. He then served as a Jt. Director Public Relations Deptt. From 1977 till 1980. He was additional Director, Deptt. Of Tourism, Culture, Museum and Archaelogy, Govt. of Punjab. From 1980 to 1982 he then served as a Director, Publicity and Public Relations of 9th Asian Games organizing Committee New Delhi from 1982-83. He was then moved to as a Press Secretary to the Presidents of India from 1983 to 1987. He was Managing Director of Delhi Tourism Govt. of India from 1993 to 1994. In 1995 and 1996 he was the President of Wimpy International and Chairman of Delhi Tourism and Development Corporation from 1996 to 1999. He was Vice Chairman National Commission for Minorities from 2000 to 2003. He was a member of National Commission on Population from 2003 to 2005. And then the Chairman of National Commission for Minorities for Minorities, Govt. of India with the status of Union Cabinet Minister, he was the first ever non-muslim to held this post from 2003 to 2006. He served as a Member of Parliament of Rajya Sabha from 2004 to 2010 from Haryana. From 2010 onwards he has indulged himself into Social Work.

Currently he is a Chairman of Khalsa College Patron of International Sikh Film and Arts Fedration New-York. And Convener of International Centre For Sikh Studies, New Delhi.
Work done by Sardar Tarlochan Singh over his long illustrious Career :-
Published the first Sikh Art Calendar in 1971.
Oragnised special editions of the Marg Magazine.
Prepared a Catalogue of Sikh relics lying in U.K in 1975.
Established the Guru Teg Bahadur Museum in Anadpur Sahib in 1978.
Established Maharaja Ranjit Singh museum in Amritsar in 1980.
Established Shaheed Bhagat Singh Museum in Khatkar Kalan in 1988.
As additional Director Deptt. of Tourism,Culture,Museum & govt. of Punjab.
Acquired a Lithograph of Golden Temple ,Amritsar 1834 from London and got Published from Public relations deptt.Punjab in 1978.
Bought about 20 Sikh relics from Victoria Museum , London for displaying in Amritsar in 1980.
Developed Hauz Khaas Tourist Complex.
Developed Dilli Haat.
Started annual festival s in Delhi like Qutub Festival, International Mango Festival & Garden Festival.
Helped extensively in making Punjabi as 2nd Language in Haryana and Delhi.
Opened Canadian Consulate's in Chandigarh and England in Jalandhar.
Helped in Starting 2 direct Flights from Amritsar.
Worked extensively for the resettlement of Refugee's from Afghanistan.
Got visa's to hundreds of Sikhs who were in the Blacklist in Canada , U.S.A and U.K .He also advocated heavily for abolishing the Blacklist.
After Kargil War He got sanction of the Sikh Jatha to go for Pilgrimage from the P.M and persuaded to give them Special Facilities like the Haji's get.
Work done as Member Parliament Rajya Sabha.
He moved a calling attention motion on the relief to the victims of 1984 riots in the Rajya Sabha.
He is the first Sikh MP who has moved a bill in the Parliament to amend Section 25 of Indian constitution where the Sikhs have been described as part of Hindus. The amendment is to seek independent status for the Sikhs as a separate religion. This bill came twice on the agenda for discussion but due to disturbance it could not be debated. This is still pending for discussion.
He moved an amendment in the Anand Marriage Act which was passed in 1908. There is no provision in this act of registration of Sikh marriages. Now Sikhs are getting registration certificates under Hindu Marriage Act. The Parliamentary Committee on law & justice has already approved the proposal. Law Minister has made assurance in theRajya Sabha of getting this bill passed at earliest. This will be a major step towards officially recognizing the Sikhism as a separate religion.
Demanded the withdrawal of Gallantry awards from the Army Officers who participated in the Blue Star Operation.
In the constitutional review commission he appeared as a Sikh representative & on his plea the commission had recommended the necessary amendment in Section 25 ofIndian Constitution.
He got an Air India flight approved to Toronto from Amritsar.
He got an Air India flight approved to Vancouver from Amritsar.
He made efforts to get approval to upgrade Chandigarh Domestic Airport to International airport from Parliament.
He got sanction for Maharaja Ranjit Singh's statue in Parliament complex & Rs.25 Lakhs payment was made by Shri Atal Bihari Vajpayee, then Prime Minister.

It was his efforts that Rajya Sabha took a decision of installing the Statue of ShahidBhagat Singh in the Parliament.

He is the first Member Parliament who spoke in Punjabi in the Parliament. It took him about two years to get the facility of immediate translation of Punjabi in other languages, so that the other MPs can understand the speech.
He demanded in the Parliament that the Nankana Sahib Sikh pilgrims should be given the same facilities as the Haj pilgrims get.
He moved a calling attention notice in Rajya Sabha on the progress of relief to the victims of 1984 riots.
As Chairman National Commission for Minorities
He got maximum facilities for refugees from Afghanistan. He got them permissions to travel to India from US & UK & also got special papers issued for working in India.
He got a bill passed in Haryana Assembly for granting second language status toPunjabi in 2004 by Shri Om Prakash Chautala. On his request a meeting was held in Home Ministry in 2004 which was presided by Shri L.K.Advani & Punjabi & Urdu were granted second language status in Delhi.
He got visas to hundreds of Sikhs who were in the black list in Canada, US & UK. He has been advocating for abolishing the black list.
After Kargil war in 1999 all movements between India & Pakistan were stopped. He got sanction of the Sikh Jattha to go for pilgrimage from the Prime Minister.
He got sanction for the Sikhs living in Pakistan to come to India for pilgrimage as a group. This was not allowed for fifty years.
It was his efforts that Government of India honored Air Chief Marshal Arjan Singh DFC with the title of Marshal of the AIr Force. Field Marshal Madappa Cariappa OBE and Sam Manekshaw were only other Field Marshals in the history of India.(Marshal of the Air Force, Marshal of the Fleet & Filed Marshal are highest ranks of IAF , Indian Navy & Army awarded for the life time to the retired Chiefs of the Services for exceptional service to the nation. only 03 officer were awarded this five star general rank in the history of India)
He intervened as Chairman National Commission for Minorities when there was a move to form Defense services supreme counsel in 2004. By this move GeneralJoginder Jaswant Singh, popularly known as J.J. Singh would have retired as Lt. General. He succeeded in getting consent of Prime Minister to scuttle the move. General J.J. Singh was promoted as Army Chief subsequently.

As Chairman and Managing Director of the Delhi Tourism and Transportation Development Corporation

Developed Hauz Khas Tourist Complex
Dilli Haat.
Started annual festivals in Delhi

Qutub Festival.
International Mango Festival.
Garden Festival.

As the Additional Director, Department of Tourism, Culture, Museum and Government of Punjab.

Established the Guru Teg Bahadur Museum in Anandpur Shahib in 1978.
The Maharaja Ranjit Singh Museum Amritsar in 1980.
Shaheed Bhagat Singh Museum in Khatkar Kalan in 1988.

As Director Public Relations Department.

He acquired a lithograph of Golden Temple, Amritsar – 1834 from London & got published from Public Relation Department, Punjab in 1978. This picture is displayed all over the world in Sikh houses.
He brought about 20 Sikh Relics from Victoria Museum, London for display in Amritsar in 1980.

As Director Markfed, Government of Punjab

Published the first Sikh art calendar in 1971. The second calendar in 1972 on Sikh Martyrs was banned by the Parliament but later on was allowed to be released. SGPCcopied this calendar for worldwide distribution.
He organized special editions of the Marg magazine edited by Mulk Raj Anand, the world-famous writer. One issue was on Amritsar, and the second on Maharaja Ranjit Singh.
He prepared a catalogue of Sikh Relics lying in UK in 1975 with the help of Dr. W.C. Archer, who was responsible for locating Guru Gobind Singh's arms in 1966 in UK.